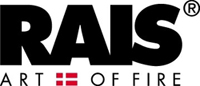 Rais was established over 35 years ago, and absolutely recognises the value of quality engineering within our industry.
Born out of a Danish engineering factory that specialised in steel components, the experience of Rais's history has produced a unique quality and style. They focus on combining clean lines and sharp edges, with a strong steel engineered structure. One of Rais's unique features is its 'cool' handle technology. Even when the stove is running hot, their metal handles are still usable without a glove, something they are very proud of.
Rais also work closely with the Danish Technology Institute and Aalborg University and strive to combine new materials, knowledge and trends to form the very best in highly efficient, environmentally friendly, designer wood-burning stoves.
Rais the warm centre of a living space and family.
RAIS wood stove is an elegant piece of furniture that makes your house a home as it fills it with comfortable warmth. These wood stoves combine functionality with a unique and contemporary design, which has been honoured with several international design awards.
These Rais stoves are developed with a convection system that distributes heat evenly across the main installation room and adjoining rooms. Rais wood stoves are efficient and clean burning to ensure optimal burning of wood, contributing to a lower heating bill. Our extensive range of Rais wood stoves and accessories can fulfil your special desires, are suitable for unique homes and blend comfortably with individual style.
Buying your Rais stove from  The Stove Room and also having our Hetas engineers install it will secure you a 10-year warranty that can't be provided when purchased out of your area or online. This is because we are an approved dealer for Rais and they have put their trust in us and want their customers to have a full wraparound service including aftercare. This is why Rais only provide this level of warranty when you buy from The Stove Room directly.

You will notice that RAIS products on this website are now being described as 'ecodesign ready' and are accompanied by the special logo shown above.
But what is 'Ecodesign'?Ecodesign is a Europe-wide program to lower emissions. The regulations which underpin Ecodesign come into force in 2022 and from that date all stoves will have to meet very strict new performance criteria. Many stoves on the market will need to be completely re-designed to comply. However, we are delighted to report that all except one (RAIS 2:1) of the current range of RAIS wood-burning stoves already meet the ecodesign criteria! You can be absolutely sure when you purchase your 'ecodesign ready' RAIS stove that it is future proof and already incorporates the most advanced combustion technology available.
When you purchase your stove from your local stockist The Stove Room, you can be reassured you will receive the manufacturer's full or extended warranty. BUYER BEWARE! This won't be supplied by the manufacturer when you purchase your stove out of area or online.